Dallas Product Specialist
Book Our Product Specialists
Whenever a product is being promoted, one of the biggest thing that stands out is who is promoting it. Plenty of companies rely on celebrity endorsement, which is fantastic if said celebrity is liked by all. When it comes to your product, you want somebody behind it that has no chance of having prior enemies or that comes with any form of negative connotation. You may be wondering who would even fit that description, and Dallas VIP has that answer. If you're going to have anybody act as your product specialist, you'll want somebody attractive with the knowledge to match. You'll want one of Dallas VIP's hand selected product specialist models.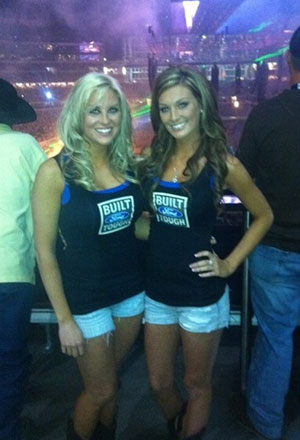 With a product specialist model, not only do you get an individual with the face and body needed to call attention to the product you're showcasing, but you also get an individual who is more then just a look. These highly trained models know what they're talking about, and make sure that the customers they're attracting leave well informed and with a good image of your product in mind.
While the bulk of their job is to draw attention to your product, a product specialist model will be well informed regarding the ins and outs of what they are promoting. You won't have to worry about blank stares when somebody asks a question. These models will know what they're selling and won't have to second guess themselves.
One quick phone call to Dallas VIP, known typically as being Dallas' premier reservations expert for parties and events, and you'll find that your product has the backing that it needs. Whether you need the model for a trade show, convention, or demonstration booth in a mall, you'll find exactly what you need in just one person. Nothing draws a crowd more then a pretty face, and Dallas VIP will be sure to employ just the right girl for the job.
Your product specialist model will also come in handy for any sort of product demonstration. You're item will be in the spotlight amongst others thanks to the attractive model working the demonstration. You won't have to worry about your product getting lost in the crowd with any of Dallas VIP's hand selected models as these girls know how to draw attention without making it all about them.
Everything you need to know about product specialists can be found by simply calling Dallas VIP. One of the company's attentive staff will find out exactly what you need and will pair you up with the perfect individual for the job. Whether you're showing off a new piece of technology or software or want to make sure your new invention doesn't get lost amidst the crowd of numerous others, a product specialist model is the best way to go to ensure the spotlight is on your product.