Dallas Atmosphere Models
Book Our Atmosphere Models
Bachelor parties can sometimes fail without the proper planning. If you don't want this to happen at your event, it's best to turn to the services of Dallas VIP. Through Dallas VIP, you can have what's called an "atmosphere model" included in your party to breathe a little life into your all-male event. Atmosphere models are available to give your party life, and without them, you can expect your event to fall flat before it even has the chance to take off. An atmosphere models job is to help an all guy group to attract other ladies to the table, interact with the group, and make the overall event a fun atmosphere.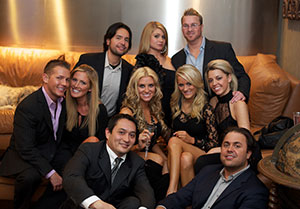 When you're looking for that little kick to get your event going, look no further then Dallas VIP. This Texas based VIP expert planning company has access to some of the most attractive and sexy atmosphere models that any guy could lay his eyes on. Atmosphere models do exactly as the name designates. They keep your event from being dull and help the atmosphere to remain lively. With an atmosphere model at your side, you'll be the life of any nightclub. These girls will attract attention from all partiers, even if they're outside of your social circle. If you've wanted to feel like the king for a night, the aid of an atmosphere model is crucial.
On top of being a gorgeous face to look at, atmosphere models are generally fun to be around. Their personalities match their looks and any of the fine girls chosen by Dallas VIP will have no problem fitting into any social circle. As the night wears on, there's a chance you may even forget that the girls is not actually a part of your group. Their bubbly, open personalities make it so easy for these models to seamlessly blend into all groups. One big plus of this is that other events or parties going on in the same establishment won't even known that you hired a model to be the life of your event.
By hiring a Dallas VIP atmosphere model it shows that you care about the excitement and fun of your event. These atmosphere models provide a friendly companionship to all of your guests and will be the life of the party. Everything about an atmosphere model will help ensure your event is a true success and at no point in time will you feel like you're being swindled, especially with a company like Dallas VIP making sure things run smoothly from formulation to finale.
The best thing about an atmosphere model is that they are all educated, gorgeous, and fun to be around. These girls are professionally trained in perfecting their social skills and will be able to carry on the entire night without so much as a lull in the fun. The atmosphere models that represent Dallas VIP are fun, friendly, and outgoing. They are there to talk with the group and create and overall fun atmosphere for everyone attending the party. Having a Dallas VIP atmosphere model is the responsible way of getting a beautiful, female face to join your event.
So the next time you have a night on the town planned with your guys, don't go through the hassle of having to pick up girls in whatever nightclub you're partying in. Let our atmosphere models help break the ice with ladies in the club. Without a doubt, you'll have no regrets about your decision and you'll be looking to contact Dallas VIP again in the future.