Dallas Fashion Models
Book Our Fashion Models
You may be one of the greatest fashion designers in the city of Dallas, but all of that means nothing if you don't have the right person to showcase your design. No matter how bright the colors are or how intricate the designs wind up being, your concept can easily sink in with the rest if there isn't a gorgeous body tucked nicely into it. As someone in the fashion design field, you know that the look is everything; and to make sure the look is complete, you'll want to pick up the phone and call Dallas VIP.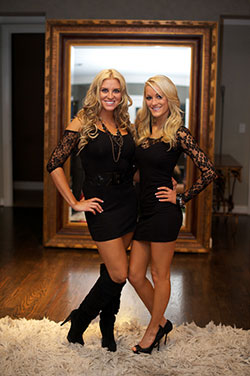 If you've ever seen a runway show, you've probably taken notice to some of the gorgeous girls and women showcasing each design. Typically, they're tall, elegant, and beautiful. How they look is only half the job, though. The other half is knowing how to make the garment look, and that usually require training and practice, something that you may not have the time to deal with. In these instances, you'll want to be able to rely on a third party to provide a trained model; someone that knows the ins and outs of fashion modeling. While it may not seem like the place to start, Dallas VIP is your hub for all manor of modeling needs.
Through Dallas VIP, you'll be provided with the best of the best in the modeling world. The girl(s) that are assigned to you will be trained in every required aspect and will require little to no direction from you. These girls not only have the look, they have the brain to match and can handle their own. Whether being showcased in a fashion show or utilized to model your garment in a print ad, these girls know how to make your stuff stand out. From perfecting poses to having the perfect walk, the models from Dallas VIP are masters of their craft. No matter the need for the model, you'll have all of your basis covered.
It's easy to get caught up in your own product, but don't let your biased love for your design get in the way of the need to sell it. While it may be a gorgeous garment, sometimes it just needs that extra push from somebody wearing it. Once you get one of Dallas VIP's gorgeous models in it, though, you'll be the talk of the town.
Dallas VIP may best be known for its ability to arrange the perfect night on the town, but the company is quite eclectic in its abilities. After just one phone call, the crew at Dallas VIP will start to turn its gears, finding you the best models for your needs. You won't wind up with some untrained rookie, either. These models come highly trained, and all they need to know is what you want.
So log off of Craigs List and stop looking for some affordable model on an untrustworthy internet modeling site. Call Dallas VIP, but out the potentially useless middle man, and get everything you need from a professionally trained model.