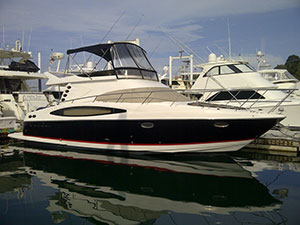 If you ever visited a boating dock while as a child, you have fond memories strolling down the rickety wooden planks with your planks with your parents casting your eyes upon a sea of boats- the next more beautiful than the last- bobbing up and down in the mirror-like water. Maybe there was one boat in particular that stood out amongst the rest, a vessel that no doubt belonged to someone with plenty of money, that you dreamed could someday be your very own. You might have even made the resolve that you would obtain and care for such a magnificent ship when you grew up. While you might have been able to accomplish a lot in your life since being that small child but, let's face it, the reality of owning a boat is a time consuming, very expensive labor of love, hobby that not everyone is fortunate enough to have the time and energy to fully pursue. This is where, as always, Dallas VIP is there to provide the outlet you need to see your dreams of living big finally come to fruition.
With their combined infinite wisdom, the staff at Dallas VIP came together and partnered with a local charter company to provide to its patrons the pinnacle of premium water-based entertainment. Enjoy a day with the wind in your hair and the warm Texas sun on your face as you captain your very own 38 foot luxury Sport Yacht across the crisp waters of Texas' Lake Lewisville. Somewhere about your journey aboard this mighty vessel, you're destined to find yourself living out your childhood fantasy of captaining a yacht equipped to the gill with only the most luxurious, high-end amenities anyone could expect out on the water.
You and your group of friends- even corporate partners- will find that this spacious vehicle comes fully equipped with all of the comforts from home. The full bathroom is complete with a shower, sink, and toilet. The kitchen has a refrigerator large enough to hold an entire day's worth of essentials, and a microwave for those quick reheats and snacks. Where some boats leave you feeling like the sardine in a can, the Sport Yacht is large enough to let you dine in comfort.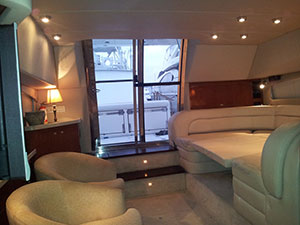 As you coast through the gorgeous environment that is Lake Lewisville, you'll find that you can enjoy your favorite tunes thanks to the on-board iPod docking station. There are a wide selection of sitting areas located across the vessel; your fellow mates might find themselves sitting in the Aft cabin, salon, and, of course, the oversized deck and surprisingly large cockpit. If the sun gets to be a bit too hot, all who are aboard can retreat to spacious, air conditioned interior of this near 40' behemoth.
A yacht charter is the perfect compliment to any occasion, especially a bachelor party that is begging to be about more than drinking in a confined nightclub surrounded by half naked women. Imagine drinking and being surrounded by beautiful half naked women dancing on a yacht. See? A yacht makes everything better. Corporate events could always use a little sprucing. Maybe a Booze Cruise for treating your employees on a job well done, or for entertaining a client with the charter could very well mean the difference between making or breaking the deal.
You might have thought that you'd never get the chance to steer a sleek yacht, but "never" is such a strong word that deals in absolutes. With Dallas VIP's Yacht Charter Services, you'll be temporarily placed at the helm of your very own private luxury vessel. Bark orders to whomever you'd like. Force someone to "walk the plank" like the pirates of old. After all, using Dallas VIP's Yacht Charter Services means you get to kick back, enjoy living the childhood dream of owning your very own yacht, and never having to stress or worry about all of that pesky upkeep. That's somebody else's headache.