Going to the big game is fun; standing in an arena that mimics the grandeur of the Roman colosseum. Two teams enter---one team leaves victorious. The crowds will cheer as their favorite players represent the gods of greek legend, with abilities that defy the common man and bend natural physics to the point of breaking. The energy consumes the masses and fills them with the same drug that drives the masses to church on Sunday. At least, this is what some people think. The truth is: watching the game from home gives you better viewing advantages by providing multiple lens angles. But, the most fun to be had when trying to enjoy a game is in the Tailgating experience!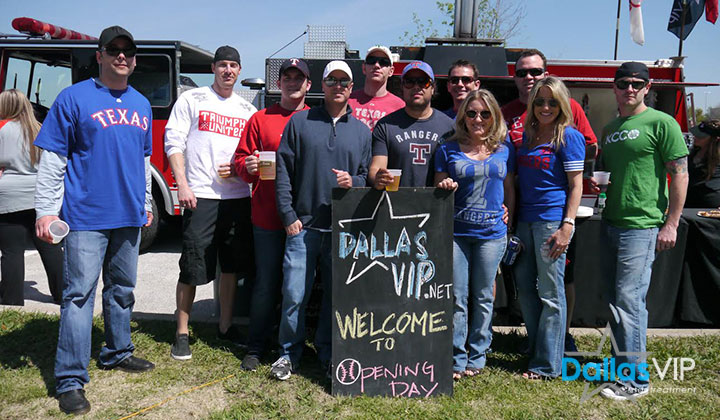 Tailgating offers it all; getting out of the house, gathering with friends or coworkers to roar for your favorite gladiators (players), and great food. It's comparable in emotion to being a kid and going to the park. Tailgating is just that: "a playdate for grown-ups." You know what else is cool? Being the one who puts together the perfect tailgate experience. Whether you're the cool one of the bunch, or the likable boss who knows that a great team-building exercise can be done when your people come together as one for a little camaraderie. Imagine inviting a few clients to share in the memories. Tailgating is the most fun you can have in a parking lot (aside from demolition derby, of course).
Dallas VIP offers a variety of packages that can be customized based on your event's specific needs, and they include services such as tents and tent setup, big screen television, satellite service, grills and smokers, food and beverages, and cleanup. Dallas VIP even offers an Ultimate Tailgating Package that includes a fire truck that has been customized to include a brick pizza oven and a 10-tap beer keg system! When it comes to tailgating- anywhere in the Dallas, Texas area- Dallas VIP can do it all!
We can customize any tailgate package to fit your needs. Be sure to call Dallas VIP today as dates are being filled and availability is limited. Booking is based on a first-call, first-served basis. We look forward to helping you become a hero in the eyes of your friends, family, co-workers, and clients for booking this all-inclusive experience.