At Dallas VIP we also provide options for fun outdoor and indoor adventures for your next bachelor, bachelorette party, or corporate and team building event. Our Dallas VIP adventure packages have been hand selected to deliver you the finest array of exciting options that await you in our great city of Dallas. Suitable for Bachelor Parties, Large Events, or even couples, all that is required is your commitment to be daring and embark on an exciting adventure that awaits you.
We provide boat and jet ski rentals at Lake Louisville for Party Cove. In addition, you will find our services to be on the cusp of dangerous and intriguing with opportunities to ride in a helicopter or rent that exotic sports car that you have always dreamed of driving. These adventure packages are not for the faint hearted and neither are the memories. You will find our prices to be competitive and discounted versus the published rate. We encourage you to call our staff at Dallas VIP to discuss what adventure options will be best for you.
If you want to have a great time on the lake, then search no more. Dallas VIP provides a water adventure experience that include jet ski's, luxury boats, or pontoon boats for entertaining guests or hanging out with your party on the lake. We can even provide luxury round-trip transportation as well as catering lunch for your group while on the excursion. Rentals can range in price depending on the length of time you want to spend out on the lake. Pricing varies depending on the season and if it is a holiday weekend, so be sure to contact us directly to get the best possible rates. We provide jet ski rentals for 2, 3, or 4 people and they can reach speeds of up to 35 miles an hour on the water, so get ready for some fun on the lake!
Boat rentals provide the best overall experience for groups of more than 3 people wanting to get away from life in the busy city. If you seek the enjoyment of boating, fishing, or just an afternoon of laying in the sun without having to worry about buying and maintaining your own boat, then calling Dallas VIP is the way to go. Want to do something fun and exciting for your next bachelor, bachelorette, anniversary, corporate outing, or VIP party? Then consider calling Dallas VIP and have an exciting day out on the lake!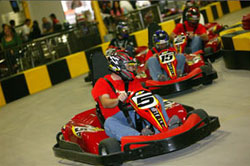 Another great activity Dallas VIP provides is at the indoor go cart track. You can race your friends for bragging rights and host a fun day at the track for your family and friends. The indoor track also has several meeting rooms where you can eat, host a private party, or watch the game on one of the big screen TV's. In addition, there is an arcade providing fun for the entire family. Also, the state of the art dining facility will make sure that no one goes hungry. Group packages can be purchased for corporate events and buy outs of the entire venue. Call Dallas VIP and ask our professional staff about setting up an exciting adventure with your family, friends, or co-workers today.
If you really want to get the adrenaline pumping then consider going skydiving! So, its your birthday, bachelor/bachelorette party, or anniversary? What better way then to spend it jumping out of an airplane? Skydiving in Dallas is one way to see the view of the city from over 10,000 feet in the air. You will leap in a tandem skydive with a professional skydive instructor who will make sure that you land safely on the ground below. Sky diving is not for the faint hearted, but it could help you overcome your greatest fear and know that you can accomplish anything you set your mind to. Dallas VIP offers discounted rates for groups like bachelor, bachelorette parties, and corporate parties looking to experience the adventure of a lifetime!
Another popular adventure among the guys is heading out to the gun range for a fun daytime activity. There is no better way to let loose or expel your frustrations than by slamming off rounds of bullets at the gun range before going out on the town for your best friends bachelor party. The gun range in Dallas is suitable for groups of any size and is sure to give you a rush of excitement as you are shooting the machine gun of your choice. There is a plethora of weapons to choose from that will satisfy your wildest dreams from the standard hand gun to semi and fully automatic weapons. Dallas VIP can also arrange discounted transportation to get your group to and from the gun range. Our packages can include a combination of guns, bullets, T-Shirts, and other accessories to remember your adventure with Dallas VIP at the gun range.
Taking a night time helicopter ride around the downtown area of Dallas is an adventure that will not soon be forgotten. It is a great way to experience a different side of the city from up above. This can be a great option for your anniversary or even a wedding proposal. It is a breath-taking experience and one of the most unique activities you can enjoy in Dallas. This is just one of the many activities that Dallas VIP offers our clients looking to do something different than the norm.
Weather you are looking for a relaxing day at the lake or for something that will really get the adrenaline pumping, Dallas VIP can help. Our concierge services are the best in town and can handle any of your needs from hotel accommodations, limo or private jet transportation, nightlife, or corporate event planning. Let our creative staff help you plan the event of a lifetime by calling us toll-free at 1-855-7Dallas today!