Dallas Tailgate Party Planning
Are you tired of the same of boring tailgates at the sports games? Dallas VIP presents the ultimate tailgating vehicle equipped with its own pizza oven and 10 built in beer taps for your next corporate event or tailgating function. This firetruck has been customized like no other vehicle you have ever seen. You will be the most popular person on the block if you show up to the tailgate, block party, corporate event, or birthday party in this unique firetruck! It functions as a pizza oven and also has 10 built in beer taps to allow you to sample up to 10 of your favorite types of beer.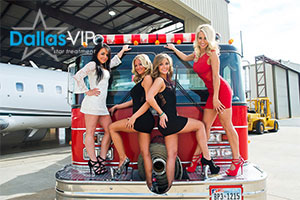 What could be better than all you can eat pizza and unlimited beer at your next tailgate? Forget about rolling up to the parking lot in the same old RV. This head-turner will be sure to draw the attention of passersby and also bring attention to your brand if you book it for the next corporate event. So you are wondering, how does this work? Well, simple. Give Dallas VIP a call and let us know the date you are looking to book the firetruck, what type of event it is for, how many people, and we will take care of the rest! Dallas VIP offers various packages with this custom firetruck to fit you needs. You could use this vehicle for a family-oriented event at your next block party and have it function as just a pizza oven and serve soft drinks. Another great idea is to have it at the next Dallas Cowboys or Texas Rangers game with your entire company. You will surely be hailed as "brilliant" and "creative" by your clients and work colleagues alike for coming up with such an out of the box idea for your next trip to the stadium. This firetruck is sure to draw the right type of attention to you before coming into the next big game! We will simply wristband your guests and they can consume an unlimited amount of pizza and beer based on the package you choose. We will even set up high-top tables and seating in the parking lot in front of the firetruck so your group has its own private "home base" to hang out at before heading into the game.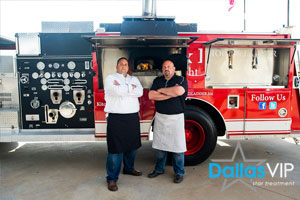 This firetruck has been specially converted from an actual firetruck used to put out fires into an eye-catching "Ultimate Tailgating" machine! This is the most unique pizza party experience that you will find in the Metroplex. We use only the finest of ingredients to make our wood-fired pizzas. The pizzas are a traditional Neapolitan style pizza that is made fresh daily from imported "double zero" Italian flour. The sauce is made from hand-crushed San Marzano tomatoes and the hand-pulled Mozzarella Cheese is always fresh. We offer a variety of toppings from various meats like pepperoni, sausage, canadian bacon and an assortment of vegetables like green peppers, black olives, onion, mushrooms or anything else you wish. Our toppings are all fresh, local, and delicious.
Dallas VIP offers a variety of packages based on your specific event, but our most popular package is called "The Ultimate Tailgate Package." This package is for up to 25 people and includes the firetruck at the event, unlimited hand-tossed Artisan pizza cooked on a wood burning oven and two kegs of domestic, import, or craft beer of your choice. We can customize any tailgate package to fit your groups specific event. Be sure to call Dallas VIP today as dates are being filled and availability is limited. Booking is based on a first call, first serve basis. We look forward to helping you look like a genius in front of your friends, family, co-workers, and clients for booking this unique experience at your next tailgating or corporate event!