Dallas

Shooting Range

Come experience the most unique rifle shooting experience in the United States!

Our Shooting Center has developed a European style hunters/shooters training center that is designed to improve shooting technique and help hunters refine their natural instinctive shooting skills. In order to get a Hunting license in Europe a hunter must take many hours of classroom training as well as practical shooting qualifications with live fire, using their own hunting rifles and scoring a standard minimum in order to get a "Hunting Certificate" that they can then take to the local game authorities to obtain a "Hunting License". This type of training has proven to be so effective that we decided to bring the concept to America, we have taken the basic criteria and tailored it to the American customer and built a program that we feel is very informative and helpful for all hunters no matter where you hunt. American authorities do not require this training in order to get your hunting license here but the teachings are invaluable overall to hunters and shooters alike. The concept revolves around a 3 step process:

Step 1: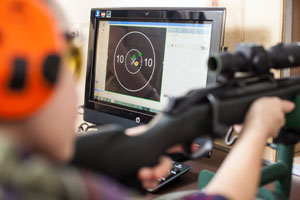 A customer typically will bring their hunting rifle in to our shooting center and we start by "Sighting In" their rifle in our 100 yard enclosed, climate controlled underground sighting tunnel. Our state of the art targeting system is "paperless" meaning that shot placement is detected via sound wave technology and a shooter will see an immediate response to their shot on a computer screen next to the shooting bench. This information gives precise "X and Y" axis data as well as "Shot Grouping" information so our NRA Certified Instructors can help the shooter diagnose the proper changes for elevation and windage and help the shooter adjust the scope accordingly.
Step 2:
We then transition our customers in to our Shooting Simulator where on a typical visit we will spend around 45 minutes training in proper rifle grip, stance, barrel swing and lead on a variety of game animals from Moose, Bear, Whitetail, Wild Boar and more. We teach our students through repetition and practicing proper form. As with anything you do, the more you practice the better you get. We have found that this is a perfect training situation for shooters. We are using an eye safe laser rifle, shooting simulated bullets at a screen approximately 12 feet away. Our computer program allows us to review barrel trace and study any flaws a shooter may have, we can also do 360 degree review of shot placement to evaluate angled shots and gives pointers to improve accuracy. After spending 45 minutes practicing in this environment a shooters performance in the Cinema Range is guaranteed! Again, you are never alone at SSC, you have an NRA Certified Instructor with you at all times.
Step 3: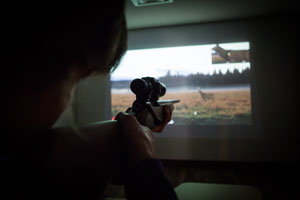 Our final stop is in our "Cinema Range", picture a movie screen that you would watch a movie on at your local theater. It's the same thing but ours is made from heavy duty rolls of paper. We can run a movie of virtually any game that you desire to shoot at from North American Big Game to African Dangerous 7. We shoot up to 4 shooters at a time, all shooting is controlled by an NRA Certified Range Officer who is standing behind each shooter as they fire LIVE AMMUNITION at the animals running across the screen, it is a BIG 12X30 foot screen. When a shooter shoots the movie freezes for 2 seconds and a red dot the size of a silver dollar appears where the bullet went through the screen, this allows the shooter to know if the shot placement was good or bad, your call! We generally start the session with slower moving animals and work the shooters into faster paced running animals, all in 45 minutes. A shooter will typically shoot between 60 and 80 rounds in 45 minutes. Bring you rifle or select from an assortment of Blazer rifles topped with Aimpoint Red Dot sights. For added excitement we have a Carbine course that allows a shooter to shoot at a variety of Field run, Olympic timed targets, etc…You choose if you want to shoot the Hunting scenarios or shoot the Carbine scenarios.
Our program was initially designed to be a Hunting training center but we have found this to be great for other purposes as well.
Office Team Building/Rewards
Client Entertainment
Family Outings/Reunions
Bachelor/Birthday Parties
Friendly Competitive Shooting with Friends
Contact Dallas VIP today and schedule your 2 hour shooting range time for your party!