Dallas VIP is proud to announce its participation in hosting the best Halloween party in Dallas in 2014! Dallas VIP has teamed up with Maxim, Access Dallas and SiSu to bring you the 4th annual Monster's Ball Halloween Bash at SiSu in Uptown. This event is sure to sell out and VIP packages with bottle service are limited. Monsters Ball is being hosted by Maxim Hometown Hotties Lezlie Deanna, Crystal McCallum, and DJ Sophia Lin along with 50 of their closest girlfriends. There will be over $5K in cash and prizes for our costume contest. The costume categories are Sexiest Costume, Best Couple, and Best Costume. Get creative this year and take a shot at winning over $5K in cash and prizes! Doors open at 9pm till 2am. Call 1-855-7Dallas for more info.
Halloween is a yearly celebration that is observed by many countries throughout the world on October 31st which is the eve of the Western Christian feast of All Hallows or All Saints and is also known as All Hallows Eve. Halloween was originally influenced by western European harvest festivals and festivals of the dead where people would participate in activities such as trick-or-treating, going to costume parties, carving pumpkins into jack-o-lanerns, lighting bonfires, visiting haunted houses, watching horror films, and telling scary stories. This is the one day that people can get creative and dress up in any kind of outfit to express themselves and attend a fun event.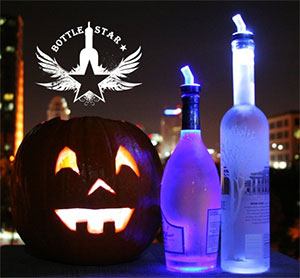 The history of Halloween is also thought to have been influenced by the Christian holy days of All Saint' s Day which is also known as All Hallows where the saints are honored and people pray for the recently departed who have not yet reached the gates of heaven. All Saints was introduced in the year 609 but it was celebrated on May 13th rather than October 31st. Then Pope Gregory IV had the date switched to what we know today on October 31st. By the end of the 12th century the holy days of obligation was sweeping across Europe and involved such traditions as ringing bells for the souls in purgatory. "Souling" is a term used for the custom of baking and sharing soul cakes for all christian souls and this act is where the origin of trick or treating came from. People would bake neighbors cakes and share with one another which eventually formed into trick or treating and giving out candy to those dressed in costumes like it is today. Groups of poor children would go door to door on All Saints Day collecting soul cakes originally as a means to help pray for souls in purgatory. Other children would set candles in skulls in graveyards on this day.
Over time many different symbols and artifacts were formed around Halloween such as the pumpkin which is carved and made into a jack-o-lantern and set outside on peoples doorsteps in celebration of Halloween. The first American tradition of carving a pumpkin was recorded in 1837 and was originally associated with the harvest time in general, but was specifically associated with Halloween in the middle of the 19th century. There are many books and literature that is associated with Halloween such as Dracula, the Mummy, and Frankenstein which have also been made into scary movies to signify the Halloween holiday. Traditional colors of Halloween are orange and black while some common imagery of Halloween are themes of death, evil, and mystical monsters.
Trick-or-treating is a customary celebration for children, while adults usually opt to get dressed up in costume and attend a Halloween party. The term "Trick or treat" refers to a mostly idle "threat" to perform mischief on the homeowners property is not treat is given. Getting dressed up in costumes and going door to door was first recorded in 1911 in the United States where a local newspaper reported children "guising" around the neighborhood. Halloween costumes are traditionally modeled after supernatural figures such as monsters, ghosts, skeletons, witches, and devils. Over time costumes expanded to include celebrities, characters from movies, characters from stories, and generic archetypes such as princes and ninjas.
The most fun part about Halloween is getting dressed up in the most creative outfit and attending a party with friends. Dallas VIP is hosting the 2014 Halloween party of the year at the Uptown Resort where there will be dancing, drinking, a costume contest for cash prizes, and fun to be had by all!