WET

Pool Party at the W Dallas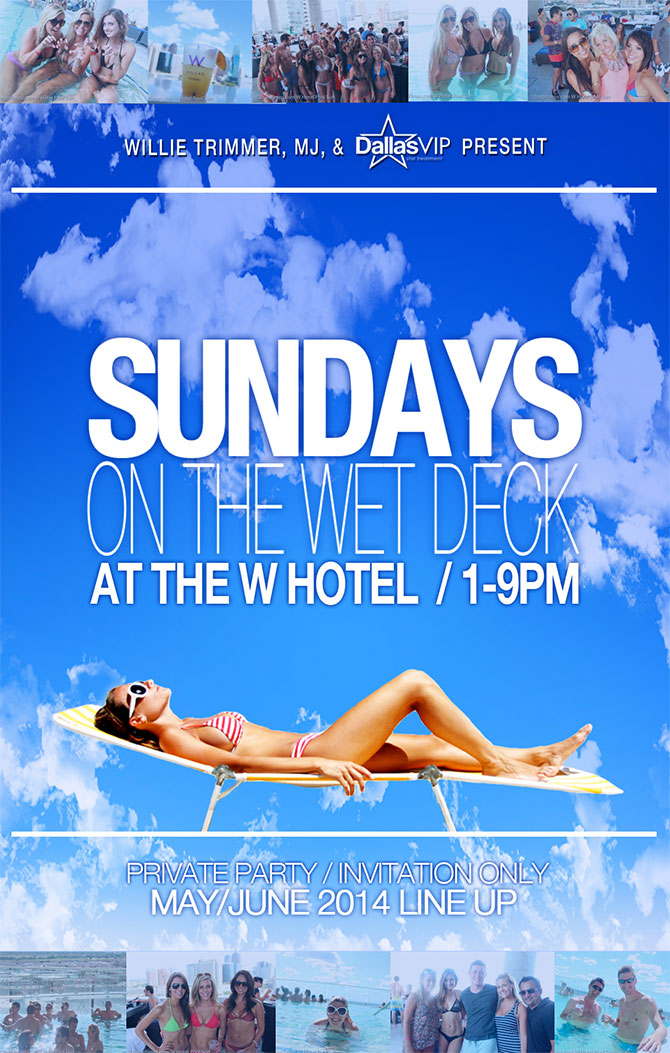 The summer months can be hot, and nobody knows this more than Texans. Another thing the great people of Texas know...is how to party. Why sit around at home and complain about life when you can beat the heat by partying poolside with some of the sexiest people on Earth! At the W Hotel Wet Deck in Dallas, there is such a pool. And the parties there are beautiful and exclusive! If a sexy time in the sun is what you are looking for: think outside of the box and join Dallas VIP for an amazing experience that is sure to impress.
Starting on the Sunday of the Memorial Day weekend, and continuing every Sunday until the last Sunday in August, there will be an Exclusive Pool Party at the W Hotel Wet Deck. Located on the 16th floor is the breathtaking Wet Deck infinity pool that gives view the best skyline view of Dallas! The party starts at 1pm and ends at 9pm. $6 frozen drinks and $6 signature cocktails are available all day, along with a full bar and food menu. And only the best-of-the-best of Dallas' Djs will be performing every weekend, bringing with them their top notch listings.
To be granted entrance into W Hotel Wet Deck's exclusive Summer Party; pool attire is required, must be 21 and over, there is a 50/50 girl and guy ratio maintained at the door, and discounted room rates are available to the Pool Party guests for the newly renovated Junior Suites. There will also be special event themes and celebrity hosts throughout the Summer, so be sure to be there! Special promo codes may be available. See you this Summer!
It's Friday night and you and your friends are looking for a place to party, you've been to all the clubs in town and they've worn out their welcome, you've been to all the best pool parties and it's just a pool with people standing around. What if you're the host and you want somewhere professional but fun? Somewhere you won't need to worry about cleaning up? Looking to woo that potential business partner and want somewhere special that your client can be impressed by? Try the W Hotel in downtown Dallas, Texas; this wonderful hotel has it all, valet parking, wonderful friendly staff, a Bliss Spa, and a Wet Deck outdoor infinity pool.
"That's different, but why would I want to go there?" You ask, suggesting that the restaurant you always go to be the best or that downtown bar that makes it obvious you picked it at the last minute. Why would you want to hear the loud children in the restaurant or the drunks at the bar? The sub par service that keeps you waiting and keeps your partners and friends annoyed at your choices. You need a place that people will say your name when they tell others about it, that will be the place to talk about around the water cooler on Monday. You need the Wet Deck at the W Hotel.
Not a bar, not a restaurant, not the boring standard you always pick. The Wet Deck is located on the 16th floor; nothing is more unique and memorable for your next party. Wet Deck is one of the signatures of the W Hotel brand worldwide; nothing is more special than the Wet Deck. This is the place to have your next pool party, with a quick hop into the elevator and a step outside and you're there. Not only is the Wet Deck an infinity pool that lets you feel as if your worries are cascading away, but also its placement at the 16th floor offers a beautiful panoramic view of the city. The pool itself is heated and has a maximum depth of four feet. In addition to the exclusive location that offers both privacy and wide-open space, the Wet Deck has full food and beverage service, whether you want a snack or meal, or a beer or cocktail the Wet Deck offers it all.
You can relax in the comfortable cabanas or day beds located poolside. Or in the most comfortable lounge chairs that will envelope you in a cocoon of relaxation. The Wet Deck is open during the swimming season from sunrise to sunset, food and drink services is offered from 11:00 AM until sunset.
The Wet Deck is the sexiest and coolest place in town to be, and be seen. The helpful staff will take care of your every want and need, making sure your party is the talk of the town, and that you'll be the next up for that promotion. Ages 21 and up only means no loud kids, and a healthy non-smoking environment await you and that next big party.
Dallas VIP is the premiere source for high-end event planning in Dallas, Texas, and our staff of event planners can arrange for transportation to-and-from the W Hotel Wet Deck Pool Party. With the W Hotel Pool Party and Dallas VIP it doesn't matter whether you are going to relax, let loose, party hard, or meeting new people---Dallas VIP is the only way to go! Be sure to call us toll-free at 1-855-7-DALLAS (855-732-5527) and ask about any special promo codes that might be available.