Cowboys

AT&T Stadium Suites & Skybox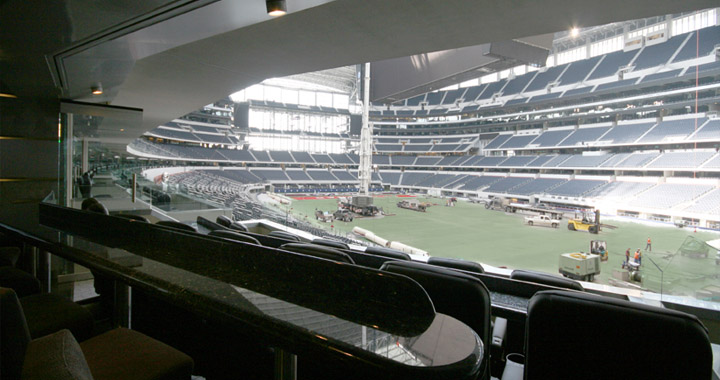 "They say, "Everything's Bigger in Texas." While that may not be true across the board, it is true in a lot of instances. It's especially true in the case of AT&T Stadium, the home of the Cowboys Suites & Skybox...also known as "America's Team".
When you look at the numbers, it's easy to see why they've been bestowed such a moniker. 30 Playoff appearances. 21 Division Championships. 10 Conference Championships, 5 Super Bowl victories. And there's the legacy. 21 Hall of Fame Inductees. Seven Super Bowl MVPs. And the names. Aikman. Staubach. Landry. Smith. The list goes on. Such a winning tradition's spirit is carried into the new stadium, where you can almost feel the energy of the crowd, all cheering on their Cowboys, and the buzz of excitement and the hope of a winning season flowing through the place.
Yes, sports fans, it's almost time to kick off a new season of Cowboys Football. Oh, there's some other teams in the league,too, apparently. And if you haven't been to AT&T Stadium to experience the magic that is a Cowboys game, you're definitely missing out. And with DallasVIP, you can make your experience even better by having a great time, whether it's in a suite, a skybox, a regular seat, or at a tailgate party. Your options are as deep as a snap from the Shotgun formation.
Officially opening in 2009, AT&T Stadium is arguably the best stadium in pro football. There's seating for 80,000 people, which regularly sells out. With standing room only and boxes, the maximum capacity is boosted to 105,000, and it has sold out at this capacity as well. There's not a lot of room left for improvement, as everything you can imagine is already built in the stadium, including a massive video screen that stretches across the field, from the 20 yard line to the 20 yard line and is visible from almost every possible angle.
Speaking of viewing angles, the stadium is the largest column free facility in the world. No matter where your seats are, there's not obstruction due to a giant support column in your line of sight. There's also 3,000 LCD screens spread throughout the VIP suites, sky boxes and concession areas to make sure you always have a view of the game.
There's also the Party Pass areas, which are the standing areas near the end zones, designed to provide extra room for those big games and for fans who want to move around and explore the tremendousness that is the stadium and see all it has to offer. The Party Pass decks are flanked by giant, sliding doors, which allow airflow and open up the stadium even more.
Then, there's the Touchdown Suites and Event Level Suites, which are the ultimate in game viewing. The Touchdown Suites are on the Hall of Fame level, and have their own entrance into the venue. No waiting in an hour-long line to get into the stadium when you have a suite. These are on the level of exclusivity that is unparalleled by anything else the stadium has to offer. There are thousands of LCD screens spread throughout the suite area. The suite is close to the concession stands in your area, but that doesn't matter, because you get your own member of the wait staff to make sure you're taken care of. No lines to wait in, none of the balancing act of trying to carry all of your drinks and nachos back to your suite without a support staff. All the best services available at "Jerryland", right at your fingertips.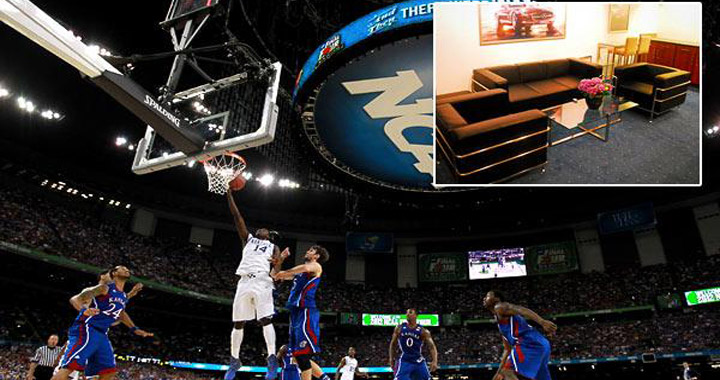 The Event Level Suites are almost indescribable. As the name denotes, they are at...Event. Level. You can see straight out onto the field from your seat. As you sit, you are actually lower than field level, with a direct line of sight onto the field. It gets no better. The only people with a better view of the game...are the players. And no one brings the players cold beer and nachos during the game. The players don't have plenty of cushioned seats and tables at their disposal to lounge on and personal LCD screens to watch the instant replays on, like your group will in the Event Level Suite Seating. So, I'm going to have to say the Suite Holders have a little edge on this one.
You can get your suite catered, or have regular concession stuff brought in by your wait staff. It's your choice. You can sit on a sofa, or sit out on the patio that touches the field. There's just no other way to get any closer to the action and excitement without a contract and making it through pre-season. You can hear the players, the play calls, everything. You are literally 1st and inches from the game. It's an amazing experience that you have to see firsthand to truly appreciate.
You're probably thinking the Suites are unattainable for the average person. Well, if the average person isn't in contact with DallasVIP, you'd be right. But through DallasVIP, you can get access to any of these packages, from a tailgate party, to a tailgate party with game tickets in either the Party Pass areas, seats or even a Suite in either the Touchdown or Event Level Suites.
And let's not forget the complete greatness that is the tailgate party. Hanging out with your friends, drinking and having a great time. DallasVIP has revolutionized the tailgating experience with all new packages to get rid of the hassle, and triple the fun. You can get a limo or party bus to pick you up, take you to, and drop you off after the tailgate. Why try to coordinate the logistics of getting 30 people together, deciding who's driving and who's riding with who, and making sure everyone's cooler is going to fit in a car, and who's bringing what to eat and transporting everything like some sort of military invasion when you don't have to?
Why bother with shopping, packing and transporting it all there only to find out you forgot the relish at the house, and forgot mustard altogether? And who wants to deal with the clean up, and picking all your gear up and hauling it back, after trying to corral everyone back so no one gets left behind? No one does, which is precisely why you should get with DallasVIP to book your tailgate party and have an experience that's as legendary as the blue star on their helmet.
Not only do we have packages that provide transportation, we also provide all the food. And the multiple screens with connection to watch the game on. And music. And best of all, we clean it all up and coordinate it all for you. This gives you the ability to never miss any of the action. Never have that picture you missed out of being in because you were turning hot dogs. Actually getting to participate in all the festivities and games, plus, being the one who made it all happen stress free.
It doesn't matter how nice your TV is, or how comfy your couch is, nothing can replace the magic and electric feel in the air, the overwhelming feeling of unity pulsing through everyone, and the overall sheer joy of attending a live event. And that can all be magnified exponentially with the right hook ups and planning, and gaining exclusive VIP access. Contact DallasVIP today to make sure you make Cowboys memories that will last as long as their legacy.
Here at Dallas VIP we strive to provide the best in customer service to ensure our clients get the seats they request to see the Cowboys in action. We understand the necessity of doing business at Cowboys Suites & Skybox games and provide VIP access to seating and skyboxes at the brand new Cowboys Stadium. The Cowboys Suites & Skybox blue star logo represents the team as "The Lone Star State" and is one of the best known logos is all of professional sports. Dallas VIP embodies this ideology and our professional staff will ensure a smooth transaction when purchasing tickets to the Cowboys Suites & Skybox games at Cowboys Stadium. In 2009, Texas Stadium was replaced by the new domed stadium with a retractable roof deemed "Cowboys Stadium" where the Cowboys currently reside. This 100,000 person capacity stadium is the largest in the world. The term, "Everything is Bigger in Texas" is truly an understatement, and at Dallas VIP we deliver big customer service and provide all facets of event planning. From ticketing to limousine transportation and VIP nightlife access, to the most sought after clubs and lounges the city has to offer, Dallas VIP will make sure your next event is a huge success! Be sure to call our experienced staff at 1-855-7Dallas today to secure your tickets to the Cowboys Suites & Skybox 2012 season.