At Dallas VIP we offer the finest in luxury private aviation available and have access to hundreds of private jets to fit your needs. Dallas, Texas is one of the busiest markets in the United States for private jet charter flights and attracts some of the wealthiest visitors in the country. Dallas is the hub of corporate America and is home to some of the largest companies in the United States. Because of the high demand for private jets in Dallas, it can be difficult to charter a private jet at a reasonable rate for your private aviation demands. Dallas VIP works with a large network of private jet operators in Texas and throughout the United States. With access to hundreds of private jets, Dallas VIP can provide you guaranteed availability for a private plane flight in Dallas to any destination around the world. We even have accessibility for last minute jet charter flights in Dallas to the location of your choice.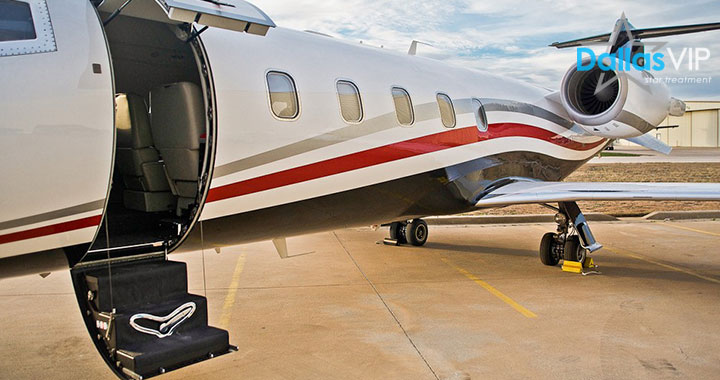 Dallas is known as one of the wealthiest and most economically stable cities in the United States. Whether your charter flight to Dallas is to sit front row at any of our sports games such as the Dallas Cowboys, Mavericks, Stars, or Texas Rangers, the staff at Dallas VIP can make your private jet arrangements without hassles and help you get the best seating the in house to the game of your choice. Dallas VIP Jet Charters has the resources to arrange your charter flight into and out of Dallas on the private plane of your choice. The hotels in Dallas are some of the worlds finest including properties such as Hotel Za Za, The Ritz Carlton, The Rosewood Crescent, and Joule Hotel which draw visitors from around the world. In fact, the Dallas area rivals some of the largest cities in the country with many five star hotels in the area of Uptown and Downtown Dallas. Due to our many successful sports franchises, people from around the world travel to Dallas to catch a glimpse of our sporting events all year round. The best way to travel in style and efficiency is in one of the private jets provided by Dallas VIP. Weather you are flying into or out of our great city of Dallas, we can make sure your private jet arrangements are handled in style and with precise efficiency.
Dallas VIP is dedicated to ensuring the safe travel of our clients. We only work with aircrafts and operators that are in compliance with FAA regulations and maintain flawless safety standards. Our jet charter affiliates are required to maintain specific certifications that were created to provide a standard for which aircraft safety including operating, maintenance, regulations and licensing are measured. In addition to the minimum standards set forth by the FFA, Dallas VIP has established supplementary criteria for all charter flights. We have incorporated these requirements into our safety due-diligence program, which carefully screen all aircraft operators to ensure that every flight flown for our clients is on the safest, most well maintained aircraft under the command of two highly-trained pilots. Dallas VIP takes pride in our ability to provide additional safety information specific to each flight. We specialize in conducting on-site aircraft operator inspections, and ensuring operators' compliance with aircraft maintenance and crew experience requirements.
Your safety is our priority. This is why at Dallas VIP Private Jet Charters we do background checks to answer the following questions:
Is the airplane you've chartered equipped with the latest safety avionics, like collision avoidance?
Do the pilots of my flight have a clear record of accidents, incidents, and enforcement actions?
Are the pilots of my flight adequately experienced in this airplane?
Are the pilots properly certificated and type rated?
Does the charter company selected for my flight have a good safety record?
Has the airplane ever been damaged?
When your next trip into or out of Dallas calls for private aviation arrangements, then let our professional staff at Dallas VIP handle all the details. We will listen to your needs for private air transfers, then seamlessly execute a plan of action to give you the best rates to secure your travel needs. Please call us today at 1-855-7Dallas to book your private jet charter. We look forward to helping you with your needs and will exceed your expectations.